We offer your child an innovative, fitness-based learning program right here at Patti's All-American. Our educational preschool provides the lowest student-to-teacher ratio in NW Indiana. Gym-N-Learn offers a well-rounded program with a strict emphasis on academic excellence. Children graduate from our program well-prepared for kindergarten. Our curriculum stresses letter recognition, introduction to at least twenty sight words, and numeral identification. Students complete basic patterning and rote count to twenty for ages three to five. Gym-N-Learn also can help prevent childhood obesity with nutritional lessons and gymnastics class each day. Instead of napping or having a snack… we exercise! Our program also offers Ready-2-Learn for parents and their two-year-olds. The preschool prep class involves parent and child activities that are designed to acclimate two-year-olds to the daily structure of school. Our qualified professional teaching staff is led by Yesenia Vidal who has a B.A. in Elementary Education with a Kindergarten endorsement.
Precautions and procedures we utilize to keep your child safe
Parent drop-off car service for parents with other children in the car.
Children go straight to our hand washing station before going to the gym.
We ask parents to take temperatures at home so that they won't bring their children to school sick BUT we also take their temperatures in the car before they step foot in the building.
We have lowered our class ratio size spreading the children out in the classroom.
Extra clothing in their backpack is required as well as an extra mask. Just in case of any accidents.
We sanitize hands every time they rotate in the gym to a different spot.
Children stay in the same group in the gym and in the classroom.
Each child is assigned their own supplies for the day. They are never sharing supplies.
All school supplies are cleaned daily, (before – between classes- and after) as well as educational props.
Tables and chairs are disinfected between classes.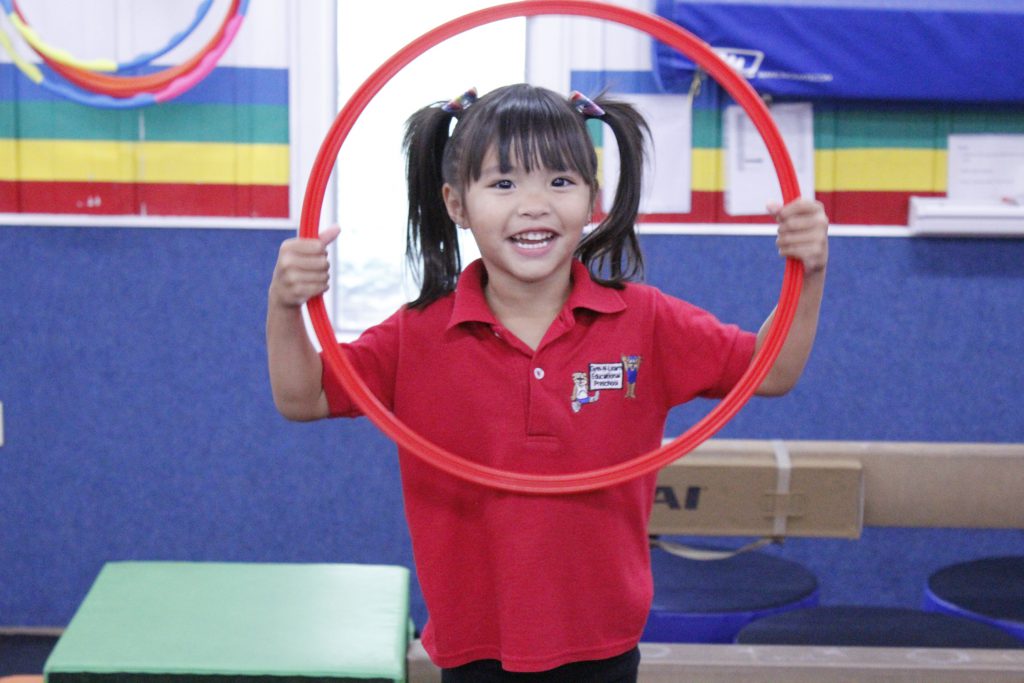 For even more Gym-N-Learn info, click HERE.
Required apparel – Red Gym-N-Learn polo, gymnastics shoes, and black shorts or comfy black sweatpants or regular pants. But no zippers, buttons, or pockets. Tuition is monthly. A $39 annual family membership fee may be due at the time of enrollment as well as the supply fee of $99 for two-day enrollment, $109 for three-day enrollment, and $125 for five-day enrollment (if interested in five-day enrollment – $325/mo, please contact the office at 219.865.2274.)
CLICK HERE-2023-2024 SCHOOL YEAR Gym-N-Learn Educational Pre-K MWF 8:45-11:15am (4 & 5 yr old)
CLICK HERE-2023-2024 SCHOOL YEAR Gym-N-Learn Educational Pre-K MWF 12:00-2:30pm (4 & 5 yr old)
CLICK HERE-2023-2024 SCHOOL YEAR Gym-N-Learn Educational Preschool T/Th 8:45-11:15am (3 & 4 r. olds)
CLICK HERE-2023-2024 SCHOOL YEAR Gym-N-Learn Educational Preschool T/Th 12-2:30pm (3 & 4 yr. olds)
CLICK HERE–2023-24 GYM-N-LEARN KINDERGARTEN (AGES 5-6)