Swim Policies and Procedures
Class Length and Fees: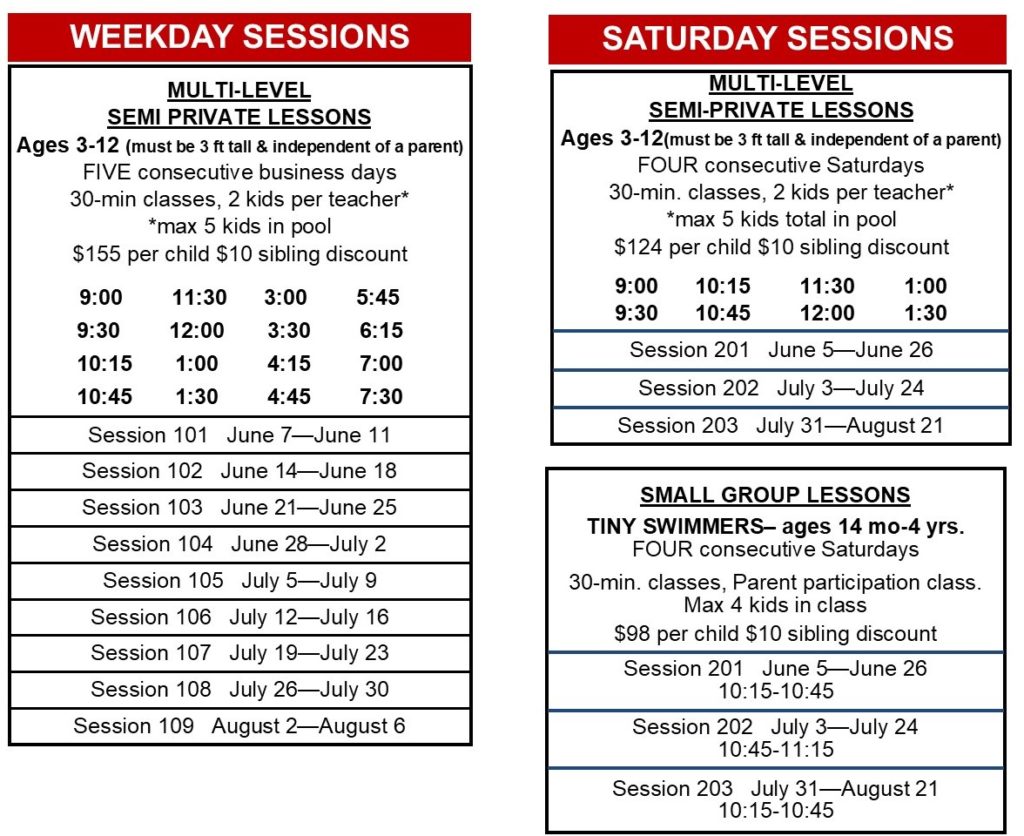 Cancellation: There is a $10.00 fee to change class times. A 48-hour notice is required to transfer classes. Once registered, refunds are only given due to illness and require a doctor's note. This is necessary due to our very small student-teacher ratio.
Discounts: Sibling discounts apply- $10 off a second class. When registering online, please allow us to apply the discounts.
Membership: There is an annual membership fee of $39.00 per family if due.  An online waiver and full payment must be received in order to reserve a class time. Register as soon as possible.  In years past, we've filled almost all classes and had waiting lists.
Make-ups: Due to our small student teacher ratio we cannot allow make-ups in other classes.  If your child misses a lesson they can do a swim make-up class held on Saturday afternoons. They are scheduled by levels with a maximum of four children per teacher. If we cancel swim classes due to weather or other reasons, we will makeup the class either throughout the week or at the end of the session and in rare cases, on a Sunday. We almost never cancel classes.  Always assume class is in session.  If you're unsure, call the gym one hour before the class (219) 865-2274.  If your class is to start for instance at 2:00, and it's pouring at that time, we'll wait until 2:15 before we cancel class.  Always come to class. To be eligible for a makeup class, you must call the office prior to your child's lesson.
When an absence cannot be avoided you must call the gym prior to that missed lesson.  Try very hard not to miss any classes, each class is taught in a sequence. No credit or refunds will be given for other missed classes.
Private Lessons:  All private lessons are $41 for 1/2 hr lesson. Refundable only with a doctor's note. There is a $10.00 cancellation fee.
OTHER IMPORTANT INFORMATION
Tiny Swimmers – Small Group Lessons – Must be at least 14 months old and wear our non-disposable swim diapers if not fully potty trained. No exceptions.  We cannot chance having a fecal accident in the pool with the possibility of E Coli. Parent participation is required in these small group lessons. 
Behavior around the pool area: Parents are responsible for their child's behavior and their safety while on our premises including parking lots, bathrooms, waiting areas, near the pool, etc.  Children are not allowed in the pool area when a teacher is not present. No children are allowed in the pool area unsupervised. Adults and children not participating in lessons are to remain in designated areas away from the pool edge during lessons. An adult must accompany all children not participating in class.
Slide: Never use the slide without an instructor being present.  Never, never go down the slide head first. A parent/adult is required to assist child on ladder on slide days.
Infections: Always inform us if your child has had an ear infection or an upset stomach.  Any child who has had diarrhea in the last two weeks should not be in the pool.  Never, ever bring a child to class who might have diarrhea.
Diving: No diving is allowed even in the deep end.